Recent Events
Click on each month to see what exciting events have been happening in school.
Keep up to date by following us on Facebook and Twitter - links are at the top of the home page!
October 2023
The first presentation of our Year 6 Recognition Awards took place on 4th October. Eight children were chosen to receive their first pin badge, which acknowledged their exemplary behaviour on the Kingswood Residential trip. Two other Year 6 children also received Recognition Awards as excellent role models in school.
Well done!

September 2023
Around half of our Year 6 children went on a 3 day residential trip to Kingswood near Cromer. They were able to challenge themselves in a variety of activities - each day was packed full of character-building tasks that involved teamwork and resilience to achieve. Some of the activities they took part in were problem solving, shelter building, archery, climbing, a blindfolded obstacle course and the exciting High Equilibrium, which required children to balance on a 30ft high seesaw!
For many of our children this was their first time sleeping away from home, which enabled them to tick off another important first in their development and they made us incredibly proud with their behaviour!
********
Year 1 had a visit from Peterborough Museum as part of their 'Memory Box' topic. They got to experience lots of old toys including Fred Bear who was 80 years of age and an old doll made from wax!
********
Some children from Year 5 got to experience hands-on STEM experiments at Wisbech Museum. They saw their speech turned into sound waves and air resistance in action when designing objects to fly in a wind tunnel. They created an optical illusion of fish swimming in a bowl when spun quickly. They also experimented with chemical reactions, watching the pressure build in a film canister and watching the lid pop off due to the pressure building in the small space. They absolutely loved watching Science in action!
********
Year 3 took a visit to Wicken Fen as part of their Geography theme and enjoyed walking along the raised boardwalk there where they tried to spot some of the 9,000 species of wildlife found there. They also saw a modern day wind pump and compared it with an older wooden wind pump. They took a walk beside the river to take pictures of the natural environment and explored Fen Cottage, a tradition home of the Fen-men and their families.
********
Year 5 enjoyed a great day at Banham Zoo. The children enjoyed seeing all the different types of animals that are cared for and are part of the conservation breeding programme at the zoo. They listened carefully to a talk about the different life cycles of animals as part of their Science theme, including the life cycles of marsupials and stick insects! The children also got to pet some animals in the petting farm and learnt interesting facts about the different animals at the zoo.
********
Year 2 enjoyed their Wisbech Town Trail as part of their Geography theme for this half term. They learned lots of interesting facts about the Church, such as the importance of stained glass windows. The children were fascinated to see all the different buildings in our town. They compared old buildings (such as Wisbech Castle) and modern buildings (such as the Library) and explored the Market Place.
********
Year 3 walked to The Boathouse near the River Nene as part of their 'How do rivers shape Fenland?' theme. They investigated all the different features they could see associated with a working river and harbour and observed the high water mark on the far side bank. The trip generated lots of questions which the children looked forward to finding out the answers to when they returned to school!
********
Year 4 received their Arts Award certificates from Trinity College, London. While in Year 3, the children took part in an 'Alice in Wonderland' project with The Royal Opera House which celebrated a range of art skills.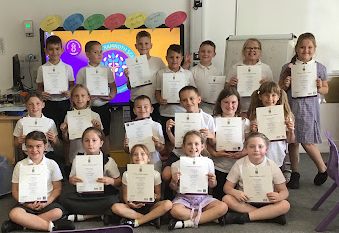 ********
In aid of MacMillan Cancer Support, we held a cake sale at our Ramnoth site and raised just £160 for this very worthwhile charity. Thank you all very much!